Water Maid products & Accessories
Components & spares for Water Maid filtration systems
Like most other systems, water filtration systems can be equipped with different parts and accessories to improve performance and fine-tune functionality.
Water Maid delivers its filters and systems with wide selection of premium quality spare parts and components to maximize life-time and stability and offer you the specific features, such as automatic back-washing control, automatic valves, and pipes to accommodate plug-and play for your water treatment needs.
Find out of the various Water Maid options below.
Vertical pressure filter vessels
Water Maid vertical high-pressure filters are closed vessels based on the rapid gravity filter concept, standard or custom designed, and delivered in stainless steel or various grades of carbon steel depending on the application and flow rate. Our pressure filter vessels are typically sized by flow rate and the quality of the water stream to be filtered.
Automatic Backwashing
Backwashing is a preventive maintenance measure to pro-long the multimedia filter usage. Over time, the multimedia in a water filtration system accumulates enough particles and contaminants to become almost clogged. Regular backwashing of the filter media is therefore crucial to maintain the system efficiency and the quality of the downstream effluent. After a backwash, the filter media is clean and ready for use again.
Automatic water control valves
Automatic vales control different conditions, such as flow, pressure, level, and so in the filtration system, and are essential for an efficient water management.
To optimize the functionality of each filter unit, conrolling and regulating the water pressure, can provide both cost-savings and avoid un-neccesary pipe and vessel maintenance.
Depending on the complexity of the system, a huge variety of valves are used to accurately control the flow of the treated water.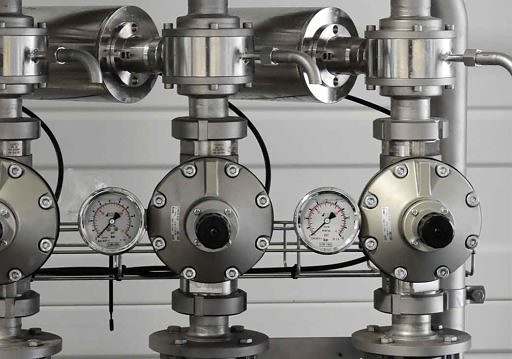 PLC
We offer a comprehensive selection of HMI and PLC (Programable Logic Controller) and automation system with graphical interface that are customized to fit the needs of our customers and their waterworks.
Water Maid filtration media
Filter media consist of materials that allow passage of raw water through them but that retains specific matters, whether physically or molecularly. The media materials are selected based on the physical characteristics, such as specific size, gravity, and particle sizes.
Our filter medias have been carefully refined and improved over the years to achieve the highest efficiency and removal rates that enables us to offer the most compact filter solutions, compared to other competitive media solutions.
All together this also results in increased lifetime and overall performance.