Chemical-free treatment in dairy production
Dairy production industry has since long used chemicals and hot water as a standard solution for sanitation and disinfection. However, today there is a realistic, more cost-effective and sustainable solution available based on ozone and advanced oxidation technology. With a state-of-the-art, efficient and reliable ozone solution from Ozonetech, you can lower the overall cost of operation, simplify the handling of sanitation and disinfection processes, increase the production up-time and thereby create real value for your business while reducing your environmental impact.
Of all the unique advantages of an Ozonetech ozone solution there is one that stands out as extraordinary. Ozone, the main cleaning agent, is produced on site from the ambient air – a free of charge natural raw material. This means that there is no transportation, no handling, no storage, no waste and no residues involved like there is when using chemicals and hot water. Ozone is also produced with an extremely low environmental impact.
Installation and validation of a Ozonetech ozone systems is a standard procedure that does not affect your normal processes. Thanks to continuous monitoring of the ozone concentration, reliable and qualified sanitation can be achieved all the time. Our high-performance Ozonetech RENA Vivo Dairy solutions has a physical footprint of only one square meter.
To summarize it all, implementing an Ozonetech ozone system in your dairy production is easy, cost-efficient, sustainable and future-proof.
Common challenges in the dairy business
.
The dairy sector is a huge part of agricultural production in many countries. Like many producers of commodities the dairy industry is going through some major changes due to shifts in consumer behavior and production technologies. Many producers struggle to stay relevant and competitive in the industry, but the question is how? There are many challenges in the dairy industry, below we list a few. Overcoming these challenges easily creates quick operational efficiencies and sustainable real business values.
Contamination of process equipment
Closed process equipment which comes in contact with fresh or processed dairy, such as pipes, vessels and evaporators must continuously be cleaned and sanitized in order to maintain proper level of hygiene and work environment. Contamination may lead to increased maintenance and operational costs with reduced production uptime.
Cost of cooling loops and risk of microbial growth
Many dairy processing facilities are dependent on cooling loops and towers for low temperature storage or temperature control of purified water used in production. Ice water-based cooling systems enable favorable environment for microbial growth, which clog filters, causes biofilm buildup, and enhances the risk of legionella outbreaks and general non-hygienic conditions, all leading to increased costs and reduced profitability.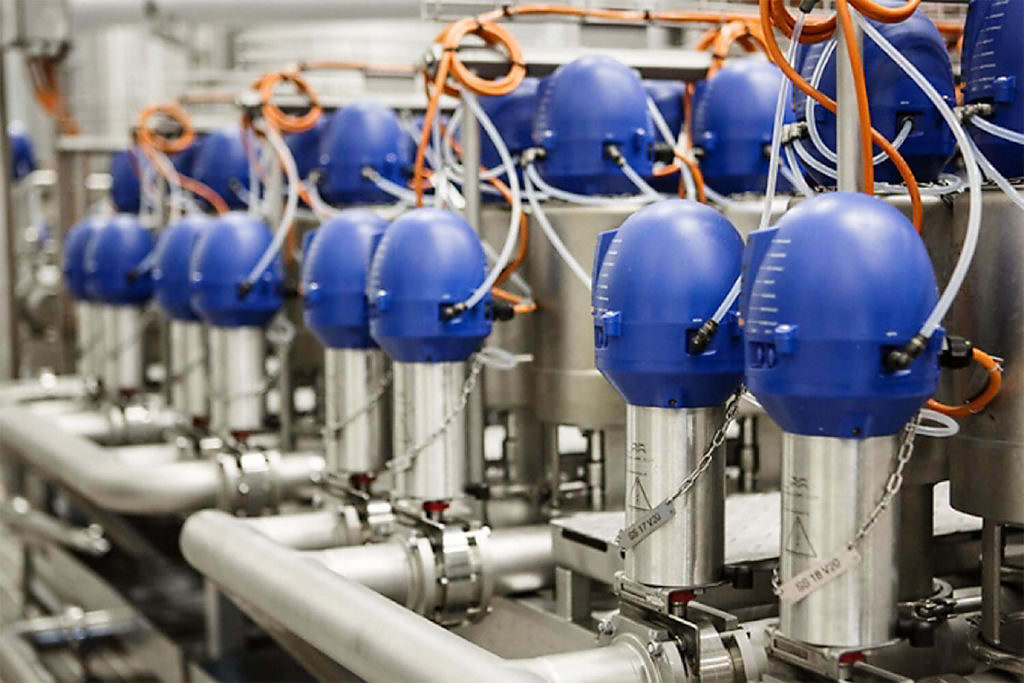 Excessive water use due to low water recovery
Large amounts of water are lost if evaporator condensate or membrane permeate is not recovered. This water can be used for less critical applications such as rinsing or cleaning instead of fresh water. However, BOD levels often lead to microbial growth which effectively can be prevented by ozone treatment. Naturally, ozone treatment involves no chemicals or residuals that can affect the hardware or impact the environment.
Low process water quality
For critical applications such as the final rinsing of equipment and product flushing between batches, the microbial standard in your dairy will be improved significantly by using ozone treatment. This not only enables a better shelf-life of the finished product but also enhances the up-time of the plant and the overall production quality. A solution for increasing process water quality needs to be cost-efficient, easy to use, and have a long life-span.
Future-proof, sustainable and cost-efficient solutions for the dairy process
.
Efficient Clean-in-Place and increased product quality
When installing an Ozonetech CIP-solution your operation will quickly benefit from the unique sanitation and disinfection properties. The strong oxidation potential of ozone along with its short half-life provides real business value for all dairy operations. Since no additional chemicals or heat is required the savings are significant. Our solutions will also shorten the rinse cycle, which in turn will increase the production up-time and reduce water usage throughout the entire production lines. As a bonus, higher product quality is also achieved.
Reduce handling and costs for cooling water control
Keep the cooling water in control with continuous water treatment. Our solutions can replace the standard biocides (and corrosion inhibitors), currently used in many dairies around the world, to keep the cooling water safe from microbial growth. Our systems efficiently eliminate the cost of purchasing, handling and consumption of chemicals. Thanks to our residual-free technology, the need for bleed-off water treatment can also be significantly reduced which also helps increase the productivity of the facility and create real business value.
Increased potential for water recovery
Save large amounts of valuable water by recovering evaporator condensate and membrane permeate. Replacing the use of fresh water, this water can be used for less critical applications such as rinsing or cleaning. However, BOD levels often lead to microbial growth, which effectively can be prevented by our technologies. Naturally, our treatment involves no chemicals or residuals that can affect the hardware or environmental impact of the plant.
Quality assurance of process water
Improve the microbial standard in your dairy by using treated water, from our systems, for critical applications such as final rinsing of equipment or flushing of products between batches. These actions can not only enable a longer shelf-life but, also enhance the run-time of the plant.
Prolonging brine lifetime
For efficient cheese production, retaining water, salt and proteins in the brine, without enabling microbial growth, is often the preferred solution. With an Ozonetech ozone treatment system, mold, spores and bacteria are effectively reduced in an innovative and efficient manner. Compared to more traditional techniques, our treatment solutions have also a number of other benefits, such as low maintenance and energy costs.
Recommended products
Ozonetech RENA Vivo Series
The Vivo segment offers the following operational enhancements:
Eliminate all disinfection agents used for treatment or sanitation
Reduce energy requirements by replacing chemicals with ozone sanitation
Ensure completely microbial free water
No purchase, transports and handling of chemicals
Treat complex wastewater substances on site
Chemical-free feed and process water quality assurance
Read more
Recommended products
Nodora
Advanced catalyzing and adsorption systems
Lowest pressure drop on the market
Modularized design
Even air flow distribution over filter beds
Easily tailor-made
Cassette-based design for smoothest possible maintenance
Read more
Related reference project
.
Air treatment
Elimination of black mold at dairy facility