The most effective and sustainable way to treat odor
The Nodora ADS™ series is especially designed for adsorption processes where airborne substances, such as mercaptans, VOCs (volatile organic compounds) and amines are subject to stringent emissions levels. It is frequently and integrated unit in Mellifiq's complete odor and VOC removal solutions.
Our range of capacities meet a wide range of flow rate requirements, while minimizing pressure drop and maximizing the utilization of adsorbants. With high processing capabilities and cost-effective maintenance, our exchangeable filter cassettes offer uniquely quick and smooth maintenance.
Nodora ADS A-series™
If installing multiple units, Nodora ADS™ can be configured and positioned in parallel or in series – regardless, Nodora ADS™ offers the most space-effect air treatment systems available on the market. The unique design of Nodora ADS™ minimizes pressure drop by perfect distribution of flow-through air, which also significantly prolongs the filter media life-time by up to 50% compared to similar systems available.
In many applications, a combination of pre-ozone treatment or Saniray Aurora systems and Nodora ADS™ filtration is recommended because of the many benefits, one being longer active lifetime of the adsorption filtration media. A multiple technology solution also enable near-zero emissions with lowest possible operational costs. Nodora ADS™ is delivered with a proprietary cassette based design, making filtration media change quick and reliable, without the need for external services and long operational down-time.
Read more about the Nodora ADS™ series in our brochure here.
| Technical specification | Nodora ADS A-series™ | Nodora ADS B-series™ | Datasheet |
| --- | --- | --- | --- |
| Air flow | 500 – 5,400 m³/h | 1,000 – 10,800 m³/h | Datasheet |
| Temperature | 0 – 60 °C | 0 – 60 °C | Datasheet |
| Application | Odor control | Odor control | Datasheet |
| Pressure drop across media cassettes¹ | 50 – 300 Pa | 50 – 300 Pa | Datasheet |
| Relative humidity | 0 – 70% RH | 0 – 70% RH | Datasheet |
| Material | SS 304/EN 1.4301 stainless steel, EPDM (FKM optional) | SS 304/EN 1.4301 stainless steel, EPDM (FKM optional) | Datasheet |
| Connections | | | Datasheet |
| Inlet/outlet connection (WxH) | 754 x 380 or 1,154 x 380 mm | 754 x 380 or 1,154 x 380 mm | Datasheet |
| Connection type | Flange | Flange | Datasheet |
| Dimensions | | | Datasheet |
| Module size (WxDxH) | 1,160 x 760 x 2,070 mm | 1,160 x 1,520 x 2,070 mm | Datasheet |
| Weight | 650 kg (1,433 lbs) | 1300 kg (2,866 lbs) | Datasheet |
¹Varies depending on multiple factors such as media, operating conditions etc.
Flexible configuration
Nodora air filtration system offers a variety of options and combinations that easily match our customers required capacity. Our systems can be configured as both standalone solutions and as part of more complex and integrated solutions, combining various air treatment technologies, such as ozone technology.
The Nodora ADS™ & CAT modules are easily coupled back-to-back and side-to-side, with flexible air intake and outlet using removable side panels. The combination of a compact design and industrial grade, high-performance odor treatment enables new and unexpected options for planners, designers, and consultants.
The system fits all industrial applications and with its extremely compact and space saving design. The Nodora ADS™ system offer a ratio to treatment capability and cost of ownership that no other filtration system on the market can meet.
Refillable cassette-based design
The Nodora system have a cassette-based design, that are refillable, and enables a more convenient exchange of filtration media than ever before in ratio to its treatment capacity and overall costs of ownership. All Nodora advanced air filtration products, components and solutions are easily scalable, serviced and maintained.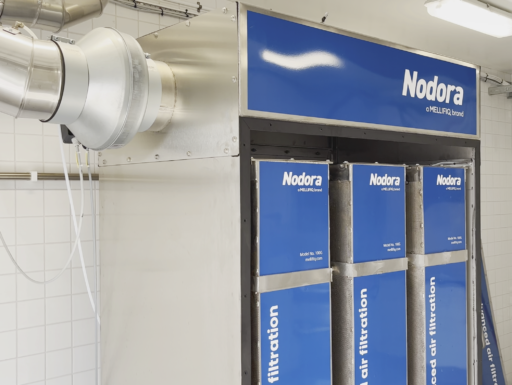 Introducing the Nodora ADS™ & CAT series
Related reference project
.
Air treatment
Belgian pharma company chooses Nodora activated carbon filter for ozone destruction
Air treatment
The new Norvik Port treats odor problems with Nodora catalytic material air filter