The most effective and sustainable way to treat exhaust air from commercial kitchens
RENA is our most powerful system solution. It is developed for commercial kitchens and restaurants with one or several hoods. Components are mounted on a stainless steel plate placed adjacent to the kitchen or further away in another room.
The level of safety is high. Ozone production shuts down if something out of the ordinary occurs. The system is remotely monitored and we receive alarms directly to our Service Center who can fix and restart the system.
RENA Kitchen Solutions
Ozone treatment brings many benefits. When the grease deposits in the kitchen duct are reduced, the fire safety increases. With an increased fire safety, less expensive materials than stainless steel may be used in the ducts. The odor decreases considerably in the air discharged into the environment. When grease in the exhaust air is reduced, the energy in the air can be recovered. The cost for heating premises is reduced by up to 80% when the energy is recovered.
RENA Kitchen Solutions has a very low operating cost and the maintenance requirements are minimal. The raw material (ambient air) is free. Nothing needs to be purchased, transported or managed. You avoid moving parts, mechanical cleaning, fillings, waste and residues.
Ozone purification is an efficient and reliable method to treat exhaust ducts in commercial kitchens and restaurants. This has been discovered by thousands of property owners, municipalities, commercial kitchens and restaurants worldwide.
Technical specifications
Our RENA solutions are fed with dry, pure oxygen and are cooled with liquid. It is a very efficient and reliable technology to produce ozone. Day after day, year after year, purification capacity is constant. Ozone production is steplessly adjustable and easy to change if required.
A single RENA system is capable of producing enough ozone for multiple hoods, large airflows and high grease loads.
RENA is available in seven models for different air flows. The ozone system components are mounted on a stainless steel plate simplifying installation.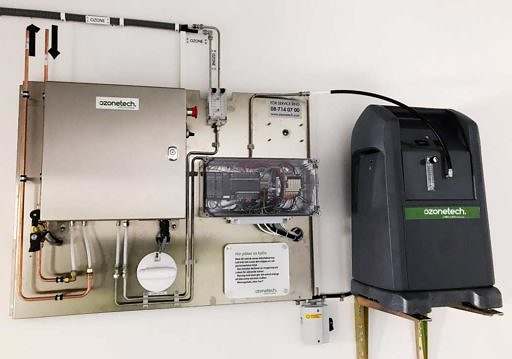 Ozone production
Distribution
The amount of ozone can be distributed individually for each hood
Cooling technology
Liquid-cooled
Tap water/closed-loop cooling system
Ozone system
Size horizontal (W x H x D)
970 x 750 x 265 mm
Size vertical (W x H x D)
695 x 1100 x 265 mm
Noise level
<50 dBA