Environmental policy
Mellifiq's environmental policy
Mellifiq delivers solutions for a more sustainable society. We market high quality solutions to clean, disinfect and remove odors from air and water. As a system supplier we take great responsibility for the quality of our deliveries. We work in a preventive and long-term way with quality as an integral part of our daily operations.
For protection of the environment & prevention of pollution we shall:
Act responsibly
We work to increase material efficiency, reduce waste and phase our hazardous substances. We work with a preventive and long-term environmental way of thinking.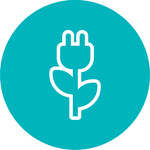 Assist our customers to choose a green solution
Our goal is that our solutions will help our customers to become more sustainable. This can be done by reducing emissions and energy consumption.
Work towards our environmental goals
The organization should work together to fulfil compliance and achieve the environmental goals set.
Include the environmental aspect in our continuous improvement process
The environmental thinking should be woven into the company's improvement process. An opportunity to improve and at the same time make an environmental sound decision, should always be given priority.
Development competence within environmental work
We want our employees to contribute to the internal environmental work and also make demands on our suppliers and business partners.
Read about our quality policy.