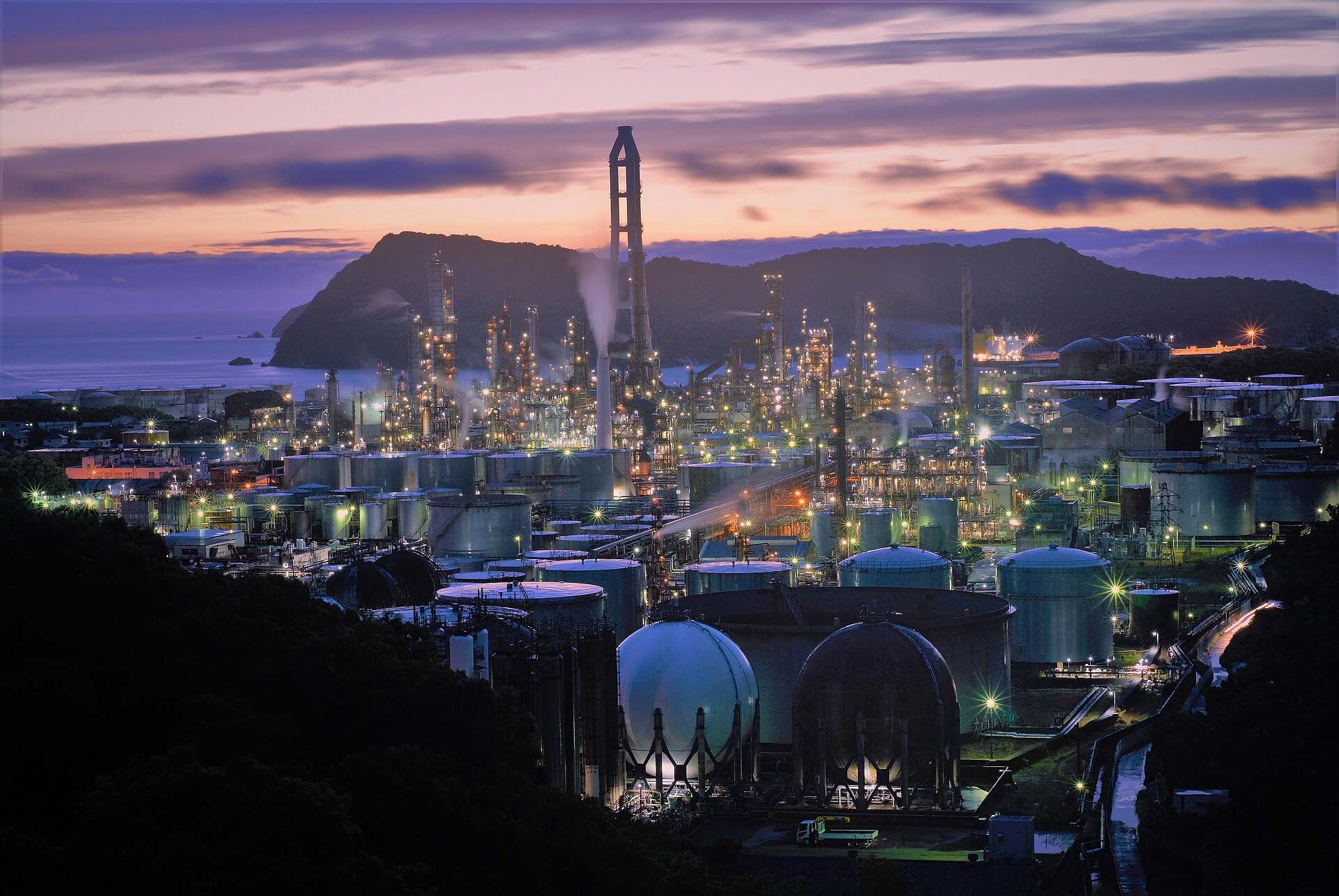 Nodora AirMist™ – a revolution in advanced gas treatment scrubbing
In addition to Mellifiq's Nodora ADS™ and CAT systems for advanced filtration to combat volatile organics, sulfides and multiple other challenging compounds, Nodora AirMist™ is the next generation in wet scrubbing applications for requirements where particularly high loads and complex mixtures of contaminants must be combatted effectively.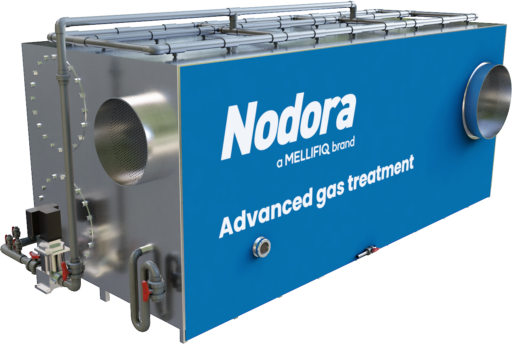 Turn-key delivery with horizontal design
Nodora AirMist™ has been developed by Mellifiq to meet demands that may stretch beyond typical exhaust gas treatment utlizing a semi-counter-flow packed bed principle. It covers solutions for all soluble substances and where restrictions in space may limit on-site vertical scrubber construction.
Mellifiq design and delivers all AirMist™ units with integrated spray nozzles, filler elements, circulation nozzle pump and automatic chemical dosing system. Air entry and exhaust connections are positioned to ensure maximum retention time and highest possible gas-liquid absorption rates.
Depending on conditions and pH value, AirMist™ can be delivered in high-grade SS316L to avoid any corrosion and pH 1-11.
Feed water connections and built-in overflow weirs are part of the construction to simplify a balanced load-to-feed ratio. All Nodora AirMist™ units have been designed to seamlessly combine the wet scrubbing mechanism with ozonation from our Ozonetech RENA Tellus and Vivo range of ozone systems, which can drastically boost performance and lower the bleed-off due to lower accumulation of contaminants in the scrubber liquid.
This not only makes the Nodora AirMist™ series optimal for customers with limited access to clean feed water, but also enhanced treatment levels per occupied footprint.
Nodora AirMist™ is perfect for a wide range of pollutants and impurities such as ammonia, sulfides, phenols, sulphates or odor control and allows for recovery where needed. It can also be utilized for exhaust gas particle or aerosols with over 90% removal rate above 8 um.
Flexible capacity for a wide range of air and gas flows
Nodora AirMist™ is delivered in three standardized series, A through C, with individual configurations of nozzle density configurations to adjust for required air flow and level of contamination. The Nodora AirMist™ comes with automatic pH control along with chemical dosing for biofilm prevention and adjustable filler size and density.
The dimensions of each Nodora AirMist™ series have been crafted for simple transportation with the possibility of modular transport with assembly of main parts on-site, or as a full unit assembled by Mellifiq in factory. Upon installation, utilities including feed water, drain connection and power are the only end user requirements. Mellifiq offers on-site commissioning including pH and chemical dosing tuning and feed water adjustment for performance optimization.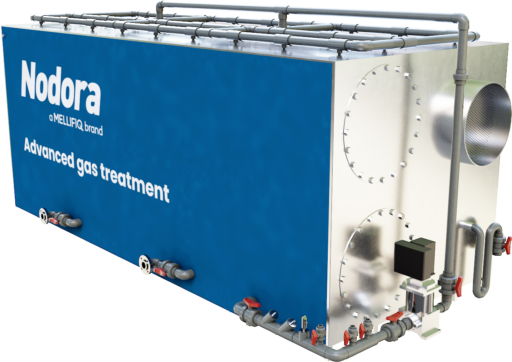 Nodora AirMist™ model specifications
| | | | | | | |
| --- | --- | --- | --- | --- | --- | --- |
| AirMist™ model | Size WxLxH (cm) | Nozzle density (#/m2) | Air flow capacity max (Nm3/h) | Power max internal (kW)* | Pressure loss (mmH2O)** | Datasheet |
| A1 | 180 x 380 x 200 | 2.0 | 10,000 | 2.5 | 20-120 | Datasheet |
| A2 | 180 x 380 x 200 | 2.5 | 12,000 | 2.8 | 20-170 | Datasheet |
| A3 | 180 x 380 x 200 | 3.5 | 14,000 | 3.1 | 20-235 | Datasheet |
| B1 | 220 x 495 x 220 | 2.0 | 15,000 | 3.4 | 20-165 | Datasheet |
| B2 | 220 x 495 x 220 | 2.5 | 17,000 | 3.7 | 20-215 | Datasheet |
| B3 | 220 x 495 x 220 | 3.5 | 19,000 | 4.0 | 20-265 | Datasheet |
| C1 | 240 x 580 x 240 | 2.0 | 22,000 | 4.3 | 20-265 | Datasheet |
| C2 | 240 x 580 x 240 | 2.5 | 24,000 | 4.6 | 20-315 | Datasheet |
| C3 | 240 x 580 x 240 | 3.5 | 26,000 | 4.9 | 20-370 | Datasheet |
*includes circulation nozzle spray pumping at max air flow feed, pH adjustment dosing, chemical dosing
**Nominal fan pressure loss up to maximum air flow capacity
All data is Nominal at 99% hydrogen sulfide removal from 4,000 ppm at inlet
Operational description
Nodora AirMist™ systems use the effective and space effective packed bed design in which the polluted airstream flows horizontally through the packed bed, thereby creating high contact area between the scrubbing liquid and the gas. Particles, VOCs or other pollutants are absorbed by the scrubbing liquid and trickles down to the collector. In our AirMist™ units, the collector is formed by the lower parts of the scrubber with a liquid depth of typically maximum 0.5 m, after which any potential overflow is led to drain. The packed bed height is normally 80% of the scrubber height.
Depending on the type of gas and its pollutant, various scrubbing liquids and pH may be required, where the most common scrubbing liquids are sulfuric acid for low pH for ammonia removal or high pH lime solutions for sulfides.
Our Nodora packed wet scrubber systems operate based on the a uniform configuration across all AirMist models. We utlize an internal circulation loop along with a balanced scrubber liquid feed to maximize liquid-gas mass transfer absorption rates and allows for independent nozzle flows regulation and fine tuned capacity controls. This also enables easy insertion of auxiliary systems such as ozonation or chemical dosing, totally separated from the scrubbing feed and drain rates.
Automation and controls
Scrubbers are often chosen because of their robust operation and reliable performance. However, some operational target values, depending on the expected results and pollutant type, should be considered.
L/G ratio: the L/G ratio is often crucial in adapting current operating conditions and feed gas. Typically, the L/G ratio, which is the ratio between the scrubbing liquid (L) internal circulation (in L/h) and the gas (G) feed flow (m3/h) is controlled between 3-9. Controlling L/G ratios directly affect the absorption rates where pollutants and transferred from gas phase to liquid phase.
pH: automatic dosing of pH is crucial for achieving a balanced chemical reaction once the gas is scrubbed into the scrubbing liquid.
Chemical dosing: depending on the nutrient and organic content which accumulates in the liquid phase during operation, chemical dosing of biocides may be necessary to prevent microbial growth. Ozonation is a recommended alternative for such situations as additional chlorides or other chemicals will not contribute to further accumulation of dissolved organics or inorganics.
Feed water: inevitably accumulation of pollutants will occur in the scrubbing liquid – the rate of which depends on many factors such as feed gas particulate matter (PM), volatile organics, the level of gas-liquid scrubbing achieved and the feed water rate. Highly contaminated gas will require both higher L/G ratios and fresh feed liquid to avoid microbial growth or clogging.
Available options and configurations
| | | |
| --- | --- | --- |
| Type | Standard | Option |
| Packing media material | PP | PVDF, PVC, SS |
| Packing media size | 90 mm | 50 mm, 35 mm, 25 mm, 16 mm |
| Construction | AISI 304L stainless steel | AISI 316L |
| Automation | Local pH control including sensors | Central automation with MODBUS TCP, 7″ HMI, graphical display with internal L/G controllers, temperature reading, SUM alarm and loggers |
| Disinfection system | None | Chemical dosing system or ozone system Ozonetech RENA Vivo or Tellus series |
| Connections | 600, 800 and 1000 mm | Custom made size upon demand |
Related reference project
.
Air treatment
100% odor removal at sewage treatment plant
Air treatment
Belgian pharma company chooses Nodora activated carbon filter for ozone destruction
Air treatment
Dairy factory in Brescia, Italy installed multiple technologies from Mellifiq for both odor control and upgrading CIP