Effective water disinfection for maximised water reuse
The requirements on water treatment in greenhouses are becoming tougher all over the world. The EU is committed to set high standards for the reuse of wastewater in all greenhouses in the EU. The aim is to reduce the need for pesticides, increase the use of rain water, and maximize the reuse of irrigation water – in the most sustainable way possible. Reuse of water can be as high as 60-80% with proper technology implementation, presenting major economic and environmental benefits for each facility.
Our message is simple. If this is what you are looking for, ozone technology must be considered in combination with other technologies such as filtration and UV, all of which are offered by Mellifiq as core technologies. An ozone system treats and disinfects large volumes of contaminated water fast, effective and at low cost. Other benefits are fully automatic operation, minimal space requirements (2-3 sqm), free-of-cost raw material (ambient air) and no need what-so-ever for transport, storage and handling. Our ozone technology is since long used for water treatment and CIP applications in breweries, wastewater treatment plants, fish farms, zoos, pharma industry, water bottling, aquaculture, food and hygiene, dairies and the off-shore and textile industry.

Common challenges in the Greenhouse industry
.
All over the world, humans have used greenhouses to boost the production capacity of fruits, vegetables, flowers and many other consumer products. The challenges associated with greenhouses have been and still are the control of microbial growth and the use of pesticides and biocides to avoid product spoilage.
Challenges in hydroponic greenhouses
Hydroponic production is the major technology used by the industry today. Crops are cultivated soil-free. Nutrient is added directly to the water supply. Nutrient addition to the water supply also generates a favorable environment for mold and bacteria in pipes and other surface areas. Microbial growth must be controlled to mitigate pathogens, hence a number of disinfection methods are required to keep product spoilage, diseases and bacteria at bay. Common methods are organic pesticides, heat, hydrogen peroxide, hypochlorite, UV, and ozone.
Many of these methods and technologies may cause secondary problems and environmental compliance issues related to the greenhouse effluent water, environmental health and safety (EHS) concerns, intense consumables costs, energy demand and extensive maintenance. An overview of various disinfection methods that can be used for greenhouse recirculated water, wastewater and irrigation is presented below.
Comparison of water treatment techniques
Heat
Hydrogen peroxide
Hypochlorite
Pesticides
Ozone
UV
Advantages
– No chemicals
– Effective method for water reuse
– Inorganic substance
– No added COD
– Low consumable cost
– No residues
– Inorganic substance
– No added COD
– Low consumable cost
– Pest control
– Reliable method
– Effective sanitizing agent
– Low concentrations
– Produced on-site
– Requires no storage
– Low footprint
– No residues
– No chemicals
Challenges
– High energy consumption
– Requires external fuel
– High maintenance
– Limited life time
– Potential EHS issues related to handling
– Potential EHS issues related to handling
– Normally requires pH control
– Toxic
– Strict effluent limits
– Handling and EHS issues
– Mechanical installation
– Ensuring sufficient concentration
– High maintenance
– Cannot treat COD or pesticides
– Frequent cleaning
Chemical handling
No
–
–
–
No
No
Energy consumption
High
–
–
–
Low
–
Maintenance
High
High
–
–
Low
High
Consumable cost
–
Low
Low
–
None
–
Toxic
–
–
–
Yes
–
–
Inorganic substance
–
Yes
Yes
–
Yes
–
Residues
–
No
–
–
No
–
Effectivity
Good for water reuse
–
–
Good for pest control
Very high
–
EHS* issue
–
Potential issue
Potential issue
Yes
–
–
*EHS – Environment, health and safety regulations
Use of ozone treatment in greenhouses
Treatment and disinfection of
Excess water
Non-absorbed irrigation water
Municipal/city supply water
Local supply water
Collected rainwater before use
CIP disinfection of
Air treatment in
Warehouses/storage areas to eliminate mold
Increasing plant health
Ozonated water can be used in overhead sprinkler systems to reduce non-beneficial bacteria and microorganisms on the plants.
Three greenhouses where our ozone solutions are used
Blomsterboda, tulip farm
Our turn-key RENA Vivo water treatment system enables water reuse at Sweden's largest hydroponic greenhouse. Our solution treats COD, sanitizes circulating water and improves nutrient management at the plant.
Ljusgårda, arugula plantation
Ljusgårda solved mildew growth on the arugula plantation by effective ozonation with our industrial ozone air treatment system.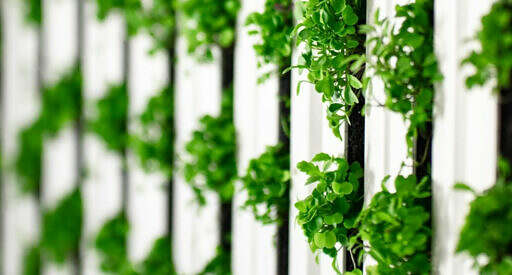 Hortinet ou, cucumber cultivation
Estonian cucumber hydroponic greenhouse solved wastewater effluent limits by installing our RENA Vivo ozone system as central part of a water reuse implementation project.
Small footprint, automatic operation and free-of-charge raw material
An ozone system is easy to handle. Once the initial settings are made, the operation is automatic. Ozone is continuously produced from the ambient air, via an oxygen generator, and led into the collection tank. Supervision from time to time is sufficient. A typical cost for an installation of a RENA system solution in a greenhouse is 10,000 – 50,000 euros. The picture shows the RENA Vivo installation at Blomsterboda hydroponic tulip plant.
An installation at a typical tulip farm
Water recirculation and reuse in greenhouse
.
Water recirculation and reuse in greenhouse has several operational advantages and is associated with significant cost savings. As irrigation water is used to grow crops, a fraction of the volume is not imbibed by the crops. Depending on the type of greenhouse and the type of crops being cultivated, the fraction of excess irrigation water is around 20-40%. New EU regulation stipulates that this volume must be reused in subsequent irrigation cycles. This presents a number of challenges for the grower since circulated water may be subject to microbial contamination. It is also vital to be able to retain the nutrient content. Ozone is an attractive method thanks to its highly potent disinfection capacity and its residue-free characteristics. It is also an excellent approach to treating wastewater containing elevated levels of organic COD and pesticide residues.
Greenhouse water reuse with ozone
As the non-absorbed water volumes are drained from the crops, a recirculation loop pumps the used water back to a collection tank. The annual water demand is typically 3,000-12,000 m3/ha of the greenhouse production area without water circulation, depending on the type of crops. The collected water must be thoroughly disinfected in order to avoid disease from microbes or pests. Ozone opens the possibility for maximizing water reuse rate and minimizing the nutrient consumption. A typical reuse cycle is described in the image below.
Smooth installation
The sketch shows a standard installation of a RENA system in a greenhouse. No major rebuilding needed. The on-site produced ozone is continuously supplied to the collection tank.
New laws and regulations pushing progress
The greenhouse industry needs to be greener and new laws and guidelines are now being introduced and enforced. In short, the new regulations comprise:
Reuse of water in hydroponic greenhouses
Elimination of pesticides in the greenhouse wastewater
COD (Chemical Oxygen Demand) treatment in the wastewater
In addition, the EU has introduced the REACH and BPR regulations. The aim is to secure a high level of protection for human health and environment and improve the functioning of the biocidal products market in the EU.
Water use by sector in the EU (2014)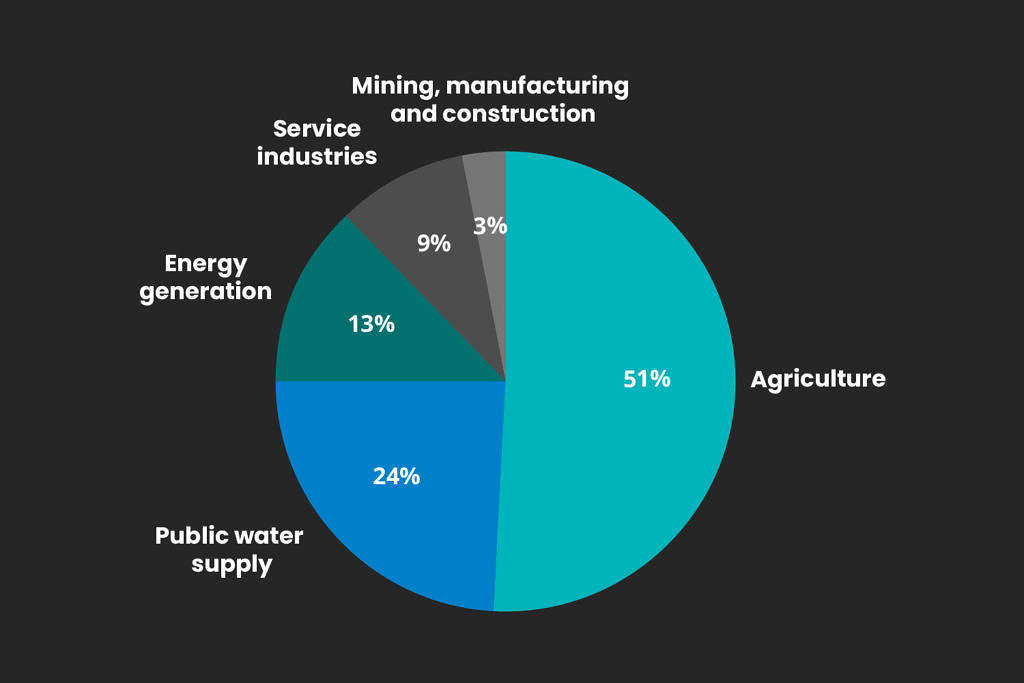 Ozone brings oxygen to the plants, increase the yield
When the ozone has disinfected the irrigation water, the residual ozone converts to oxygen, which helps enhance the growth of the plants.
Ozone disinfects irrigation water
Ozone breaks down into oxygen
Extra oxygen increases cultivation volume
99% elimination of pathogens
A properly designed ozone system will eliminate and inactivate bacteria, viruses, fungi, algae, protozoa and odors. Nutrients are not affected.
A bit less greenhouse effect
It's not easy to make a full analysis of a water treatment method's environmental impact. But ozone has some advantages hard not to agree on. There is no need to manufacture, produce and transport any raw material or chemicals (nor to order, handle and administrate them). The production of ozone is automatic and uses the oxygen in the ambient air as free-of-cost raw material. The direct operating costs are the power consumed by the ozone generating system and the closed cooling system.
Ozone – the key advantages
Strong disinfectant. Ozone's oxidizing potential is high. It ranks among the top four oxidants. In practise, it's the second strongest after hydroxyl radicals.
Fast reduction of COD and BOD. The ozone treatment of unwanted organic residues effectively reduces the organic COD and BOD loads of the water.
Unaffected nutrients. Nutrients such as ammonium, phosphate, sulphur and potassium remain unaffected.
Low footprint. Our RENA Vivo systems are designed to fit onto a standard EU-pallet.
Low energy input. Required power input is normally 1-3 kW.
What does disinfect mean?
Disinfect is to cleanse so as to destroy or prevent the growth of disease carrying microorganisms. Therefor a disinfectant is an agent, such as heat, irradiation or chemical that disinfects by destroying, neutralizing or inhibiting the growth of disease-carrying microorganisms."The minimum level of effectiveness in a modern-day disinfectant is 100 percent kill of 6 log10 of an organism"
Use ozone for fast disinfection of large volumes of contaminated process water
Today, ozone is a preferred choice for fast disinfection of large volumes of contaminated water. One of many trends that shows this, is the increasing use of ozone to treat pharmaceutical residues at waste water treatment plants. All over the world, the investments in large ozone systems for water treatment accelerates due to the effectiveness, easy and automatic operation and low environmental footprint.
Recommended products
Ozonetech RENA Vivo Series
The Vivo segment offers the following operational enhancements:
Eliminate all disinfection agents used for treatment or sanitation
Reduce energy requirements by replacing chemicals with ozone sanitation
Ensure completely microbial-free water
No handling of chemicals, transports and costs
Treat complex wastewater substances on-site
Chemical-free feed and process water quality assurance
Read more
Recommended products
Water Maid
Pressurized multimedia and adsorption systems
Automatic backwashing
Wide range capacity
Highly efficient polishing for complete removal
Read more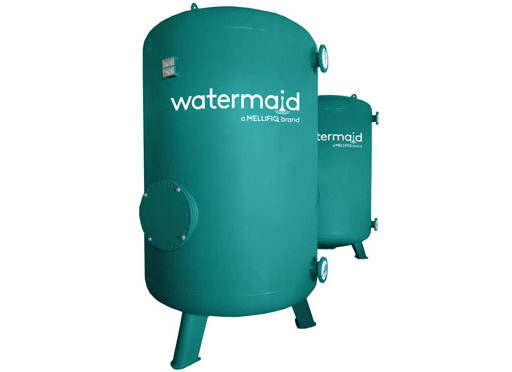 Recommended products
Nodora
Advanced catalyzing and adsorption systems
Lowest pressure drop on the market
Modularized design
Even air flow distribution over filter beds
Easily tailor-made
Cassette-based design for smoothest possible maintenance
Read more
Recommended products
Ozonetech UV water systems
Complete UV reactors with ballast and control
Single and multiple lamp configuration
High quality flanged stainless steel reactor
Low and medium pressure lamps
Low maintenance
Read more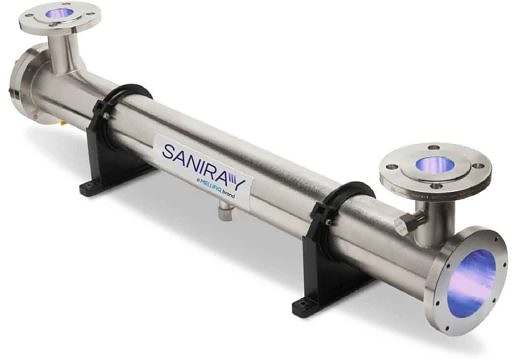 Related reference project
.