Closed cooling systems and other essential components for ozone systems
Our turn-key ozone and oxidation solutions and systems require many essential components and accessories. Some of these components are available for purchasing. Please request a quote.
Closed cooling systems
Closed cooling systems are the perfect alternative when external cooling sources are not available and/or the cost of water consumption for cooling is too high.
We can supply any of our standard cooling systems with a multitude of options and accessories to offer a turnkey solution for your specific cooling requirements.
Our closed cooling systems are able to operate at ambient temperatures of up to 40 degrees Celsius (or 104 F) and various capacities, of up to 165 l/h.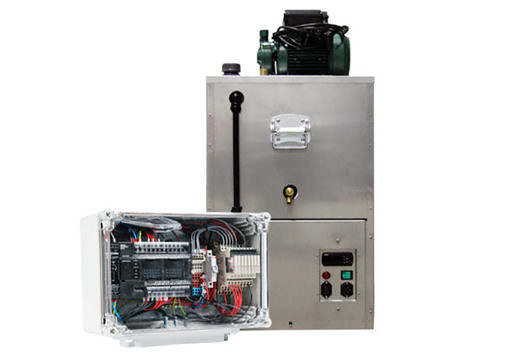 Control systems
Our in-house developed control system, O3Eye™, monitors the entire ozone system including all connected peripheral components. The unit also provides various status updates and alarm signals.
With our Premium Service Agreement, the O3Eye™ on your Ozonetech system will be connected to our online remote monitoring program, and our customer service team will be able to optimize your maintenance plan and the uptime of your system.
| Model | Description | PDF |
| --- | --- | --- |
| O3Eye™ | Control system | Datasheet |
| Closed cooling system WENR003s | Closed cooling system (3.4 kW cooling capacity) | Datasheet |
| Closed cooling system WBK1224 | Closed cooling system (0.8 kW cooling capacity) | Datasheet |
| Closed cooling system WBK2380s | Closed cooling system (2.0 kW cooling capacity) | Datasheet |
| Closed cooling system WBK1550/5650s | Closed cooling system (1.3 kW cooling capacity) | Datasheet |
| Ozone Teflon (PTFE) tubing | Ozone resistant tubing (OD 4/6/8/12 mm) | N/A |
| Ozone O-ring | 7.66×1.78 – 250×3.0 (FPM) | N/A |
| Ozone tube fittings & Valves | Tube fittings and valves (6-12 mm) | N/A |