Market leading turn-key ozone system for water applications
Ozonation plays an important role in several industries and applications. Such applications involve drinking water plants, water bottling plants, chemical free CIP disinfection, industrial effluent treatment and is gaining traction in zero liquid discharge reuse projects. In such applications, trouble free and automated ozonation systems are required in order to maximize performance, minimize downtime and ensure reliability.
Mellifiq has been at the forefront of ozonation technology and complete systems integration for more than 30 years and offers the most complete plug-and-play ozone systems for all types of water applications, including highest possible mass transfer rates, operational safety features, plant integrated automation and easy of use. As a strong force in our Ozonetech brand, the RENA Vivo series of turn-key ozone systems fulfils all the needs which can be expected from trouble-free ozone treatment.
Recipe for success lies in true turn-key design
The Ozonetech RENA Vivo A-, B- and C-series systems are designed to deliver a true turn-key configuration, covering crucial functionality and features, without which successful implementation is not possible or inadequate. This covers easy to operate human-machine interfaces (HMI), integrated ozone injection system to maximize mass transfer rates, integrated oxygen supply system and ozone generation modules. All RENA Vivo models are also designed with pressurized, integrated contact vessels with off-gas bleed valves and catalytic ozone destruction. In order to be able to seamlessly integrate our ozone systems in any setting and for any flow condition, the RENA Vivo range covers flow-through rates up to 60 m3/h and can manage hydraulic pressures up to 6 bar. Safety is an imperative aspect for Mellifiq, hence each unit is normally equipped with ambient ozone sensors with automatic alarms and shut-down procedures if required.
In addition to the technical information given below, please download our RENA Water Systems brochure here.
Still note sure? Watch our illustration video below
Operational principles of Mellifiq's turn-key ozone systems Ozonetech RENA Vivo and Tellus.
Gas preparation system and ozone generation
All models are equipped with complete oxygen gas preparation through the use of oxygen generators, using ambient air as the sole raw material. Air compression coupled with Pressure Swing Adsorption (PSA) units ensure high quality pure oxygen feed to the ozone generation units. All gas piping and mounting is part of the design is completed by Mellifiq during assembly.
Ozone dissolution system
The benefit of all RENA water systems is the integrated ozone gas-liquid mass transfer optimization design. Ozone is produced in gas phase in very high concentrations thanks to Ozonetech's HELS™ technology which enables high transfer efficiency. Included in the RENA Vivo system is a dedicated ozone gas injection loop, connected to an integrated contact tank. The ozone transfer mechanism occurs using a carefully sized venturi injector coupled with turbulent conditions in the contact tank. A dedicated VFD circulation pump ensures the proper liquid flow and hydraulic pressure in the dedicated injection loop to maintain a stable ozone gas suction, adapted to the required capacity of the system. This mechanism is market-unique and engineered by Mellifiq specifically for the Ozonetech RENA Vivo series .The integrated contact tank receives the process liquid and allows for sufficient contact time to produce homogenously mixed ozonated water.
Safety features
Mellifiq is dedicated to the safe use of all our high-end ozone systems. Hence, the RENA water systems feature several mechanisms to ensure the safety of the operators. The RENA Vivo range is delivered with an integrated pressurized contact tank which effectively removes any residual gas produced and directs it continuously through a degassing valve. Residual ozone gas can be directed to a catalytic ozone destructor which converts any residual ozone gas to oxygen, even at very low concentrations.
Work environment safety
In case of accidents or leaks due to unforeseen circumstances, one or more ambient ozone detectors can be connected to the control system for automatic shut-down or alarm signal. The pressure release valve protects the contact tank in case of hydraulic pressure peaks during operation (above 6 bar).
Automation
All RENA Water systems are delivered with an intuitive and comprehensive control system in order to maximize the user experience and ease of use. A custom made Human-Machine-Interface (HMI) is delivered from which all aspects of operation are controlled with a large 7" or 9" touch panel. The control system monitors are vital parameters required for operation, including hydraulic pressure, ozone or ORP sensors, Proportional-Integrative-Derivate controls (PID), pump flow and alarms. The versatile design of the RENA Vivo systems allow for complete customization of multiple control modes in order to maintain maximum performance should the system be used at different hydraulic pressures. It is delivered with the following features:
Factory programmed start-stop sequence of oxygen supply, ozone generator, pump and valves. This feature prolongs the lifetime of the system and ensures error-free operation.
Home screen with pronounced status indications of all integrated components required to operate the system.
Dedicated ozone control tab with control PID parameters or manual control based on required dissolved ozone target values.
Modes tab. Three different control modes are delivered as standard, which allow for operation at different hydraulic pressures and to treat different objects at the same facility. Mode switch is done with a simple touch.
Alarms tab. The control system always reports any deviations or critical occurrences during operation and automatically stops the system if required. Logger.• Trends. All RENA water systems log and store historic operational data, which can be exported to external storage devices (USB).
The control system comes prepared for MODBUS TCP communication to or from external SCADA or equivalent systems, or Profibus/Profinet as an option.
RENA Vivo A-series
The A-series is adapted and standardized for flows up to 10 m3/h depending on application and ozonation requirements. It is ideal for small to medium size bottling plants, chemical free CIP for replacing chemicals, or for integration into complete process designs where ozonation may play an important role. Due to the limited amount of oxygen feed required, this model comes equipped with mounting brackets for using oxygen cylinder as an alternative to an integrated oxygen generator.
RENA Vivo B-series
While being perhaps our most versatile model with respect to capacity, size and general use of application, the B-series is configured with a 150 L pressurized reaction tank, integrated oxygen and ozone generation which allows for use in most industrial and municipal applications, such as water reuse, removal of pharmaceutical residues, CIP for medium and large scale beverage production, and is the perfect choice for most bottling plants. This model handles flow-through rates of up to 30 m3/hr while still allowing for sufficient reaction times for effective disinfection and various treatment needs. It is delivered on a standard EUR pallet to make transport and positioning a breeze.
The B-series truly fits the bill of being a "hero at work", wiping the competition clean with regards to overall efficiency, operational flexibility and upgradable design.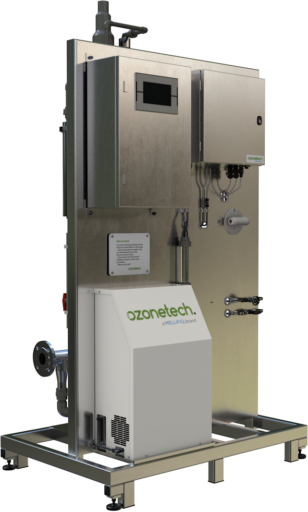 RENA Vivo C-series
The C-series is our highest capacity ozone system, tailored to solve complex treatment challenges such as break-down of pharmaceutical residues or recalcitrant contaminants, given its large capacity span. It is a perfect solution for ensuring large flows and volumes of high quality process water supply. The C-series offers the highest possible capacity flexibility in the complete range of standardized systems. While the operational features and excellent build quality mimic that of the A- and B-series, the C-series is equipped with multiple oxygen and ozone generating units, providing large flow capacity in dissolved ozone levels. For maximum capacity, this unit is normally delivered with stand-alone PSA oxygen concentrators. The C-series has been built for accommodating a 300 or 500 L contact tank to further enhance the configuration flexibility.
Due to its modular design, the RENA Vivo C-series can easily be upgraded in case customer requirements shift. As always, this models features options such as integrated ORP controls against target oxidation potential, ambient ozone sensors and closed cooling systems for when cooling liquid or water is scarce or unavailable. The system is delivered on a 1½ sized EUR-pallet for easy transportation and positioning in the facility.
Unique features integrated into a turn-key system
| | | | | |
| --- | --- | --- | --- | --- |
| Feature | A-series | B-series | C-series | Datasheet |
| High-performance ozone generator with HELS™ technology | Single unit configuration | Single unit, upgradable configuration | Dual unit, upgradable configuration | Datasheet |
| Integrated oxygen generator | Yes, self-contained | Yes, self-contained | Stand-alone oxygen concentrator | Datasheet |
| Integrated ozone degassing | Yes | Yes | Yes | Datasheet |
| Catalytic ozone destructor | Option | Option | Option | Datasheet |
| Ambient ozone safety sensor | Up to four | Up to four | Up to four | Datasheet |
| Integrated contact and/or reaction tank | 50 L, 6 bar pressure certification with bleed and safety valve | 150 L, 6 bar pressure certification with bleed and safety valve | 300 or 500 L, , 6 bar pressure certification with bleed and safety valve | Datasheet |
| Advanced Control System with HMI | 7″ touch panel, 9″ optional | 7″ touch panel, 9″ optional | 7″ touch panel, 9″ optional | Datasheet |
| Automatic dissolved ozone controls | Optional | Optional | Optional | Datasheet |
| 1 ppm dissolved ozone flow capacity | 4-35 m³/hr | 18-110 m³/hr | 35-210 m³/hr | Datasheet |
| Hydraulic connections | DN25 | DN50 | DN50 | Datasheet |
| Dimensions (mm, HxLxW) | 1800x1200x800 | 2128x1200x800 | 2092x1600x1200 | Datasheet |
| Closed cooling system | Optional | Optional | Optional | Datasheet |
Dissolved ozone and pH monitoring and controls
In some situations, monitoring the dissolved ozone levels is crucial. Naturally, Mellifiq has taken this needs seriously and offers several options. We have packaged a stand-alone dissolved ozone monitoring package including sensors, transmitters and on-display immediate oxidation-reduction (ORP) values on the automation display panel. Such reading can easily be transmitted to facility SCADA systems. Alternatively, direct dissolved ozone sensors can be integrated onto the system.
Automatic dissolved ozone controls are also available, featuring finely tuned Proportional-Integrative-Derivate (PID) controllers to adapt to target dissolved ozone levels. Additionally pH monitoring and controls are also prepared, which may be suitable for industrial and municipal applications alike, which can replace separate pH dosing stations. Please visit the Ozonetech sensors and monitors section for more information.
Closed cooling systems
In environments or situations where local cooling liquid is unavailable, closed cooling systems are often supplied. Closed cooling systems, as every other operational aspects of our ozone systems range of products and systems, integrated with the extensive automation hardware provided with each system. Please visit our closed cooling system range for more information.
External feed pump controls
As a natural part of any operation, variable flows and hydraulic pressures may be common during operation. As part of the dissolved ozone systems on every RENA Vivo model, differential pressure control within the ozone dissolution system prevents variable pressure conditions effectively. To provide additional stability, Mellifiq offers external feed pump controls, regulating the hydraulic pressure at all times, allowing for stable and predictable performance.
Ozone destruction
In every ozonation application, residual ozone gas following ozone dissolution must be handles safely. Residual ozone gas management is always built into all RENA Vivo models, in which any residual ozone gas can be destroyed and converted into oxygen. Optionally, residual ozone gas can be directed to any safe ventilation exhaust point. Ozone destructors are routinely a natural part of the system and mounted as standard onto the system bleed valves. Ozonetech catalytic destructors are used exclusively, preventing additional power use required from thermal destructors. For more information, visit our ozone destructors section of our website.
Related reference project
.