Ozonetech RENA Vivo – The most effective treatment system for process equipment and water sanitation
Ozonetech's RENA Vivo segment is a series of turn-key CIP systems used in the food, beverage and brewing facilities, aquaculture, dairy production, as well as the pharmaceutical industry and off-shore. RENA Vivo is an ozone system used for aqueous ozone applications for sanitation of process equipment, quality assurance of process water and treatment of wastewater.
The system has a control system with an intuitive HMI, regulation and control of ozone production, integrated oxygen generators. The RENA Vivo segment always employs oxygen fed ozone generators with high ozone concentrations for maximum efficiency.
RENA Vivo series
The Vivo segment offers the following operational enhancements:
Cut CIP cycle time by 20-30 minutes due to shorter sanitation and rinse-free operation
Eliminate all disinfection agents used for treatment or sanitation
Reduce energy requirements by replacing hot water with cold ozone sanitation
Ensure completely microbial free water
No handling of chemicals, transport and costs
Treat complex wastewater substances on site
Chemical-free feed and process water quality assurance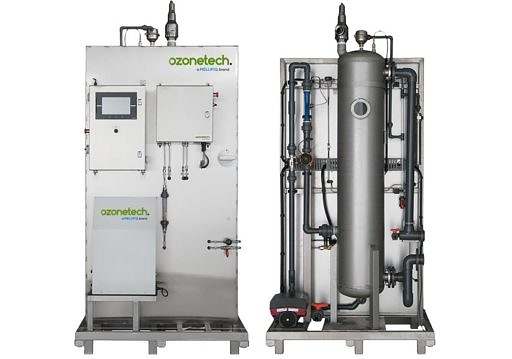 RENA Vivo A-series
The RENA Vivo A-series is a highly efficient system, tailored for smaller food & beverage facilities, craft breweries and treatment of smaller waste streams in various industries for Clean-in-Place (CIP) and water treatment. It effectively produces ozonated water in a compact design, 120x80x180 cm. Power input is very low at maximum 900W during operation.
RENA Vivo C-series
The C-series is our highest capacity ozone system, tailored to solve complex treatment challenges such as break-down of pharmaceutical residues or complex substances. It is a perfect solution for ensuring large flows and volumes of high quality process water supply It is delivered with an integrated oxygen generator or external oxygen supply.
Please download our RENA Water Systems brochure here .