The most efficient and sustainable ozone system for air treatment
The RENA Pro series is Ozonetech's premium ozone treatment solution for air treatment, specifically constructed in industrial grade components and with a true plug-and-play concept. The applications range is very broad, spanning highly efficient removal of H2S in industrial plants to aiding VOC and odor removal and any type of exhaust streams. The system includes high-performance ozone generation, safety systems and high quality material tubing & piping; all packed and mounted on a compact, easy-to-transport fram construction.
Make the selection process easy, we have standardized our RENA Pro systems in three standard models to cover almost any need for most customer categories and problem statement.
Packaged operational flexibility and simplicity
All RENA Pro models are follow the same same fundamental guideline: minimum customer interference along with stable operation. All systems are delivered with integrated gas preparation and oxygen generation, high performance ozone generators, local controls with MODBUS TCP for external communication and data collection, integrated ambient ozone safety sensors and quick couplings for cooling liquid. All models are constructed to be easily repositioned on-site thanks to the construction base which is designed to fit either ½ EUR pallet, one fill EUR pallet or 1½ EUR pallet, depending for A-, B- and C-series systems respectively. Ozone gas connections are conveniently positioned on each system to allow for simple connection of Teflon hosing which accommodate for exhaust ducts ozone injection up to 50 m distance. The allows for maximum flexibility with respect to positioning of each system.
Typical applications of the RENA Pro systems include biogas plants, food & beverage facilities, industrial air exhaust treatment for VOC reduction, wastewater treatment plants to combat hydrogen sulfide. Furthermore, RENA Pro systems are frequently used in combination with other Mellifiq brand systems such as horizontal packed bed scrubber systems (Nodora AirMist), modularized air filtration units (Nodora ADS and CAT), and for advanced oxidation process for recalcitrant VOC compounds with our Saniray Aurora UV systems.
Performance and features of Ozonetech RENA Pro A-E series
Further information and descriptions can be found in our Ozontech RENA Pro ozone systems print material. For more Ozonetech brochures and related downloads, visit our Downloads section.
* refers to maximum performance and maximum input power requirement within the control range for each specific model without closed cooling system
| | | | | |
| --- | --- | --- | --- | --- |
| Feature | A-series | B-series | C-series | E-series |
| High-efficiency ozone generator utilizing HELS™-technology | Yes | Yes | Yes | Yes |
| Oxygen supply | Integrated oxygen generator | Integrated oxygen generator | Integrated oxygen generator | Oxygen concentrator with stand-alone compressed air supply |
| Ambient ozone safety sensor | Up to four sensors (optional) | Up to four sensors (optional) | Up to four sensors (optional) | Up to four sensors (optional) |
| Automation | Local control unit | Local control unit | Local control unit | Local control unit with 7″ touch panel |
| Output control range (%) | 0-100 | 10-100 | 10-100 | 10-100 |
| PID controller | No | No | Yes | Yes |
| Closed cooling system | Optional | Optional | Optional | Optional |
| Dimensions (HxWxD), mm | 1720x800x600 | 1720x800x600 | 1720x750x600 | 1860x1600x1200 |
| Nominal performance, maximum* | 2.5 NL/min @ 160 g/Nm3 | 10 NL/min @ 130 g/Nm3 | 20 NL/min @ 130 g/Nm3 | 80 NL/min @ 130 g/Nm3 |
| Input power, max (kW)* | 1 | 2.1 | 4.2 | 15 |
RENA Pro A-series
The A-series is the most compact standard model, suitable for low to moderate needs for odor control, typically serving air flows up to 1,000-2,000 Nm3/h. It is a perfect choice for odor control and hydrogen sulfide removal in pump stations or for mold prevention in food storage facilities or for air disinfection. It is delivered as a complete unit with low cooling needs of less than 0.25 kW during operation.
RENA Pro B-series
The B-series is the most compact standard model, suitable for moderate to high treatment needs, typically serving air flows up to 3,000-5,000 Nm3/h. It is manufactured with the possibility for performance upgrades in three stages. The B-series is suitable for tough odor problems and is beneficial for managing VOC emissions in combination with our Nodora ADS air treatment units.
For many high-concentration VOC exhaust streams, it is a key piece in degrading complex organics in combination with our Saniray Aurora low pressure UV systems. Typical applications include hydrogen sulfide elimination, industrial exhaust emissions mitigation and high intensity odor control. For medium sized biogas plants, this series is suitable for H2S elimination while not providing excess oxygen in the methane gas upgrading process.
RENA Pro C-series
While our RENA Pro A-, B-series provide excellent performance for many applications in various industries and facilities, the C-series offers superior capacity and added features, boasting an impressive comprehensive automation module and PID controller for specific ambient ozone levels targets with our SteriMaid feature. The system is configured in a highly modularized manner, where the capacity upgrade is possible in seven stages. This makes the RENA Pro system ideal for situations where plant expansion and future capacity upgrades are planned.
The large capacity range and the advanced automation features of the RENA Pro C-series opens up for a vast array of possibilities and applications. The normal applicable air flow range extends beyond our more compact A- and B-series models at up to 25,000 Nm3/h. For high concentration VOC exhaust streams, a dual or triple technology design may be recommended including a combination with our Nodora AirMist or Nodora X3000-5000 systems. Typical applications are hydrogen sulfide removal at large pump stations, industrial VOC exhaust streams in the automotive industry and coating factories, or odor control at wastewater treatment plants exceeding 50 000 pe. It may also be used as biogas substrate enhancement unit or for large scale methane upgrading plants along with Nodora CAT regenerative catalytic processes.
RENA Pro E-series
Simply put. Our Ozonetech RENA Pro E-series provides outstanding capacity and will accommodate every need for most extremely challenging situation. With ozone capacities exceeding 10 ppm active ozone levels up to 50,000 m3/hr of exhaust air or gas streams, it can supply supreme performance for even the most complex air treatment challenges. It is the obvious choice for mega automobile production plants which can observe high VOC loadings with air exhaust flows up to 100,000 m3/h. It is also highly suitable for waste recycling plants or pulp and paper odor control. These systems are equipped with the latest high performance ozone generators, conveniently coupled with advanced but intuitive touch panel controls for all monitoring needs and data logging.
The RENA Pro E-series is delivered with oxygen concentrators and compressed air upon demand, which ensure stable operation over time. With a compact foot print far surpassing similar systems on the market, it is the go-to system where high treatment demands are set but where space availability presents a challenge.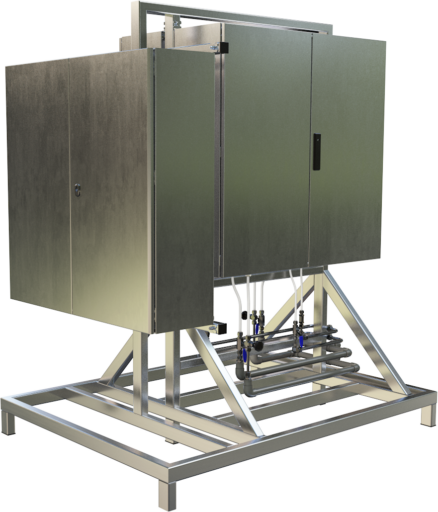 Related reference project
.
Automated on-off operation with integrated pressure switch
In some situations, it is imperative that safe use is maintained by ensuring automatic on-off operation when connected to a non-continuous exhaust gas stream. Our pressure switch controls allows for the RENA Pro systems to automatically switch off when exhaust fans are in not in operation, and vice versa. This prevents accumulation of ozone has levels inside the ventilation systems and provides an accurate balance of treatment and safety on demand.
Automatic output control through external signals
The central control unit integrated onto all RENA Pro models enables operators and plant managers to automatically control the ozone capacity through 4-20 mA signals. For some specific applications, integrated PID controllers coupled with external wifi-enabled ozone sensors make possible time-based or ozone level target based sanitation cycles.
Liquid oxygen preparation
In cases where liquid oxygen is available on site, all RENA Pro systems can utilize external oxygen supply in lieu of integrated oxygen generators or stand-alone gas preparation systems. Mellifiq supplies both high pressure compressors and oxygen systems.
Additional ambient ozone safety sensors
Normally, ozone safety sensors are mounted and integrated with local controls on all RENA Pro systems. In addition, if local health and safety principles or directed require it, up to three additional safety sensors can be connected to each system, which is common where one central ozone systems serves multiple exhaust ducting or may disseminate across an extended part of the the customer facility.
Selection guideline
We offer an indicative selection guideline based on general capacity and features to facilitate an easy process for our customers. Our dedicated engineers are always available to help select and size a proper solution based on individual needs through our contact form.
| Model | Typical air flow (Nm3/h)* | Application examples | Typical technology combination |
| --- | --- | --- | --- |
| A-series | 0 – 2,000 | Small pump station, surface and air sanitation, methane upgrading | Nodora ADS and CAT for hydrogen sulfide removal |
| B-series | 1,000 – 5,000 | Pump stations, VOC reduction, odor control | Nodora ADS, Saniray Aurora UV systems |
| C-series | 3,000 – 15,000 | Medium load VOC reduction, odor control, protein fractionation | Nodora AirMist packed bed scrubber systems, Saniray Aurora UV systems, Nodora X-series advanced air filtration |
| E-series | 10,000 – 30,000 | High load VOC reduction, dissolved air or ozone flotation for COD removal, high flow odor control, pulp and paper odor control or bleaching | Nodora AirMist packed bed scrubber systems, Saniray Aurora UV systems, Nodora X-series advanced air filtration |
*Guideline only. Mellifiq can recommend typical sizing based on observed average loadings and can vary based on contaminant composition and general air quality parameters.