The most efficient and sustainable ozone system for air treatment
The RENA Pro is Ozonetech's premium ozone treatment solution for air treatment. The applications range is very broad, spacing from highly efficient removal of H2S in industrial plants to odor removal in commercial ventilation. The system includes high-performance ozone generation, together with optional features such as specialized oxygen concentrator for maximum efficiency, safety systems and high quality material tubing & piping; all packed and mounted on a compact skid.
Benefits of RENA Pro
Highly efficient ozone generation reduces energy consumption and footprint
Stable and reliable ozone production over time
High quality fed-gas used (concentrated, dried oxygen from oxygen generator)
Pure ozone output. No by-products such as NOx, no nitric acid (HNO3) nor salt formation; extending longevity of system
Efficient heat management (liquid cooling) for stable and reliable operation, also extending longevity of system
Minimized maintenance due to clever design; pure, dry oxygen fed-gas and liquid cooling
Teflon-hose ozone distribution
Rugged design for harsh environments
Option: remote control and monitoring with O3Eye™
In addition to the benefits above, the RENA Pro-solution offers specific advantages for H2S applications:
Great H2S reduction
Odor control
Lower risk of corrosion problems
RENA Pro A-series
The A-series are the smallest capacity ozone systems, generally suitable for airflows up to 2,500 m3/h. These systems are perfect to deliver high-quality ozone to applications such as microbial disinfection (e.g. salmonella) or high-intensity odor removal in venting applications.
RENA Pro B-series
The RENA Pro B-series is the most common package as it can treat flows anywhere between 500 – 30,000 m3/h, which is perfect for applications such as odor removal in venting applications (lower capacity B-series) and H2S removal in wastewater treatment plants (higher capacity B-series). The solution has a compact design, requiring only 80 x 60 x 180 cm. The amount of liquid coolant varies between 1-6 l/min depending on model, which can be supplied on-site or with a custom-made closed cooling system. The power requirement varies as well, starting from 0.25 kW.
RENA Pro C-series
The C-series is used for applications where large air flows or pollutant concentrations are reached, such as industrial H2S removal e.g. methane upgrading.  Alternatively it can be used for when ozone is required in many different areas in lower concentrations. The unit can act as an "ozone central" where the ozone capacity is split depending on the customer's needs. The liquid coolant requirement starts at 12 l/min and power requirement starting from 1.5 kW.
RENA Pro D-series
The D-series is used for applications where the C-series does not cut it. These can be larger industrial applications such as VOC removal in paint & coating industries or heavily contaminated air streams with H2S & mercaptans e.g. wastewateror biogas.
RENA Pro E-series
The most powerful RENA Pro ozone systems that we deliver for air applications. These systems can potentially treat an airflow up to 120,000 m3/h, which may be required in very intense and grand industrial applications with high flows and/or pollutant concentration.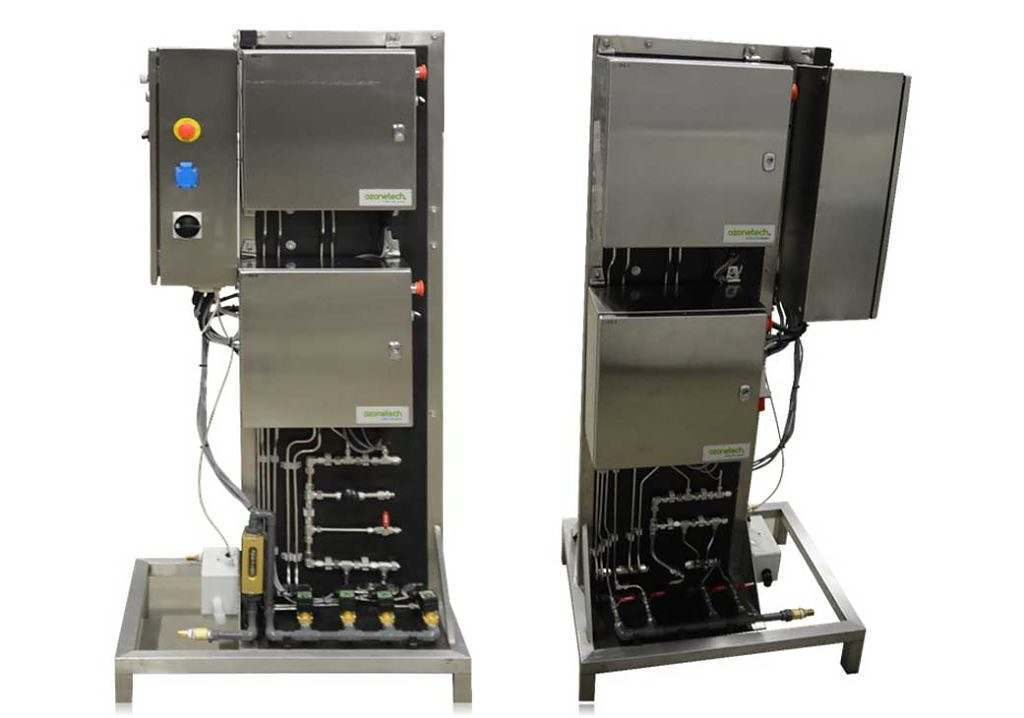 RENA Pro X
The RENA Pro X is a custom-made solution that is suitable for especially demanding applications where more ozone capacity than the E-series is required. Based on the requirements, the ozone capacity can reach up to 3 kilograms per hour. As with the other series, it includes full customizability in terms of accessories such as monitoring, HMI and oxygen concentrators.
Do not hesitate to send an inquiry to us regarding a RENA Pro X-solution!
Download the RENA Pro brochure here!
Summary
The RENA Pro is Ozonetech's most complete and efficient ozone treatment for air applications. The solution is divided into the A-, B-, C-, D-, and E-series depending on application and customer requirements.
Technical specifications
Ozone production
Capacity
Up to 0.5 kg/h
Concentration up to
240 g/Nm3
Distribution
Flexible
Feed (gas)
Oxygen
Maximum dew point of 70℃ / 158℉
Pressure internal
0.8 – 1.2 bar g (11.6 – 17.4 psi g)
Gas flow
0.6 to 60 l/min
Cooling
Quality
Liquid coolant or Freshwater, filtered
Pressure in
2 – 4 bar g (29 – 58 psi g)
Temperature
5 – 12 ℃ (41 – 53.6℉)
Flow
A-series
0.5 l/min
B-series
1 – 6 l/min
C-series
6 – 12 l/min
D-series
12 – 18 l/min
E-series
16 – 24 l/min
Electrical properties
Voltage
230 VAC, 50 Hz
Power consumption
A-series
0.125 – 0.5 kW
B-series
0.25 – 2.75 kW
C-series
1.5 – 3.5 kW
D-series
3.0 – 5.0 kW
E-series
4.0 – 7.0 kW
Connections
O2 in
A-series 6 mm, push in
B, C, D, E-series: 8 mm, push in
O3 out
A-series 6 mm, compression fitting
B, C, D, E-series: 8 mm, compression fitting
Liquid coolant in
A, B-series: male G3/8″
C, D, E-series: female G1/2″
Liquid coolant out
A, B-series: male G3/8″
C, D, E-series: female G1/2″
Ozone system
Size (W x D x H)
800 x 600 x 1800 mm
IP Class
64
Components
Function
A-series
B-series
C-series
D-series
E-series
High-efficiency ozone generator utilizing HELS™-technology
Always
Always
Always
Always
Always
Integrated oxygen concentrator
Typical
Yes
Yes
Stand-alone oxygen concentrator
Stand-alone oxygen concentrator
Ambient ozone detector
Yes
Yes
Yes
Yes
Yes
Safety monitoring O3EYE™
Optional
Yes
Yes
Yes
Yes
Advanced Control System with HMI
Optional
Optional
Optional
Optional
Optional
What is the right solution for you?
The RENA Pro can be utilized in many commercial or industrial applications requiring ozone treatment. The important part is to properly find the correct model and version for your application.
Below you can find our general sizing guidelines for the RENA Pro solutions.
Model
Air flow [m3/h]
[High amount of pollutants]
Air flow [m3/h]
[Low amount of pollutants]
A-series
0 – 500
0 – 2,500
B-series
500 – 6,000
2,500 – 30,000
C-series
6,000 – 12,000
30,000 – 60,000
D-series
12,000 – 18,000
60,000 – 90,000
E-series
18,000 – 24,000
90,000 – 120,000
These guidelines were made under the assumptions of same pollutants and available contact time.
To ensure the optimal solution for a certain application, several parameters are required, such as:
Air flow (m3/h)
Type of pollutants (VOCs, sulfur, ammonia, microorganisms etc.)
Concentration of pollutants (ppm)
Available space on-site (floor area & possible height-restrictions)
Contact time (existing piping/ventilation)
Requirements from customer (odor reduction or similar demands)
For more stringent requirements and rigorous conditions, the RENA Pro can be complemented by other technologies such as Saniray Aurora B (AOP) or Nodora Odor Removal to reach your removal demands.
Do not hesitate to contact us today to ensure an optimal air treatment for your application!
For premium ozone treatment of water applications, please refer to our RENA Vivo-series.