Saniray UV systems
Mellifiq offers the most comprehensive UV systems on the market
Any successful project requires a complete systems approach, often comprising sophisticated automation, technology and integration. Mellifiq provides world leading expertise and integration competency through carefully engineered complete UV systems for complex air and water treatment challenges. With our Saniray Aurora and Zeeron lines at its core, we also provide the necessary know-how in order for our clients to be successful many years after installation.
Saniray Aurora UV-C systems
Our Aurora line of UV systems build upon the highly successful catalytic and adsorption units under Mellifiq's Nodora brand.
Aurora A-series
The Saniray Aurora A-series is optimized for small and medium scale air treatment applications up to 5000 m3/hr per module, with a compact design fitted conveniently on one EUR pallet.
The A-series can be configured in multiple installation modes, in which individual units can be combined in parallel or in-line installation. The unique design avoids air flow short-circuiting and maximizes reactor retention time and UV dose. The A-series can be delivered with up to two highly efficient UV-C low pressure lamps (with or without wipers) for ultra effective treatment of VOC, mercaptans and other odorous compounds. These UV systems are delivered with ballast and advanced automation, with optional pressure and air flow sensors. The Aurora A-series can achieve more than 100 mJ/cm2 wall dose and 200 mJ/cm2 average reactor dose. The system is delivered with retractable UV lamp frame for easy maintenance or replacement, without the need for external service technicians.
Saniray Aurora AX-series high performance UV system
Our AX-series offers the next innovative level of UV air treatment, building upon the same strong performance of the Aurora A-series. In addition to our low-pressure UV solution found in the A-series, the AX line combines UV with catalytic treatment or adsorption – without the need for additional reaction tanks.
The end result is ultra clean air and effective removal of even the most difficult organic and inorganic contaminants, perfect for complex process industries. The one-of its-kind design features alternating UV treatment with either effective adoption media or catalytic media, specially developed for clients with near zero emission tolerance.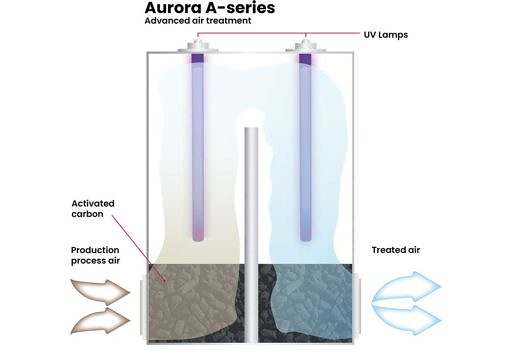 Saniray Aurora B-series for high flow applications
With air flow capacity requirements in excess of 20,000 m3/hr per module, our B-series can be installed in parallel or in-line for the most demanding applications for almost any purpose.
The Aurora B-series is highly adaptable and designed for large quantities of exhaust air from commercial real estate, industrial applications and municipal air treatment requirements. Depending on the level of required treatment levels, the system is configured for easy capacity increase with up to six individual lamp frames up to 18 low-pressure UV-C lamps in total.
The retractable lamp frames enables operational redundancy with respect to service and maintenance needs, and comes with optional wipers, air flow sensors, pressure switch. The ballast and automation units allow for convenient performance overview and can be connected to external SCADA systems with MODBUD or PROFIBUS/PROFINET communication.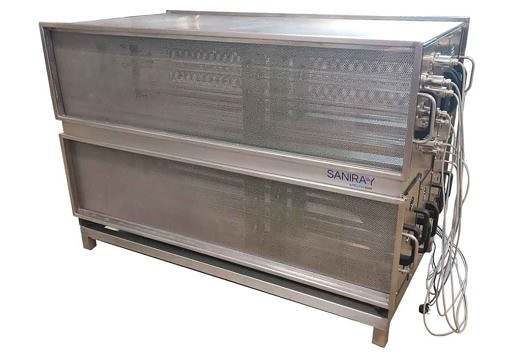 Zeeron UVM medium pressure UV system
Medium-pressure UV systems for water treatment applications cover a wide range of purposes, including AOP processes and broad spectrum disinfection. It is a proven UV technology with stable operation and cost effective long-term maintenance plans. Our Saniray Zeeron UVM models cover medium to high flows with high UV dose output with moderate power consumption of 2.5-7.3 kW UV power, perfect for dechlorination, ozone-AOP or disinfection for both industrial and municipal plants.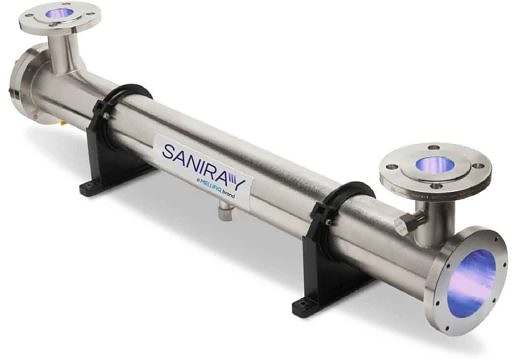 Zeeron WF medium pressure UV systems
The WF models offer compact UV disinfection and water management with moderate requirements, suitable for disinfection in various industrial settings. The relatively large reactor volume-lamp power ratio enable high flow fluctuations while maintaining sufficient UV dose.
The WF model is one of the most compact UV systems available and can be configured with up to four medium-pressure lamps at a high UV output power (0.75-12 kW).
Zeeron UVLW low pressure UV systems
The UVLW model line is specifically developed for large flow disinfection applications, ideal for in-pipe or end-of-pipe installations where low power consumption is essential. Our largest models fit up to 45 low pressure amalgam lamps capable of handling more than 350 m3/hr discharge flow per reactor.
Saniray Zeeron low pressure UV systems for water disinfection are beneficial in light of their low power consumption at specific UV-C microbial disinfection wavelenghts and are also the perfect choice for dissolved ozone destruction.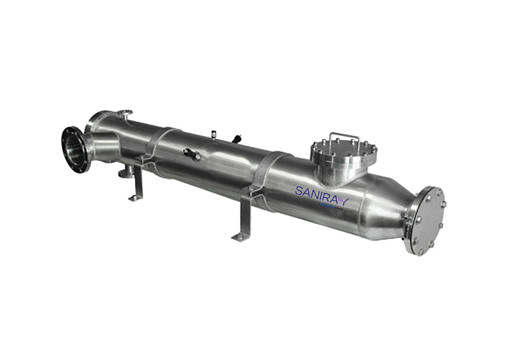 Zeeron ECL medium pressure UV systems
The Zeeron ECL series offers the latest and most modern medium-pressure UV lamps for in-line installations. It is suitable for many applications including drinking water, industrial process water, food & beverage and aquatics.
It is suitable for small to medium flows while at the same time providing sufficient UV dose to be applied for most treatment and disinfections needs.