Brochures
Nodora AirMist
The Nodora AirMist™ is the next generation in wet scrubbing applications for requirements where particularly high loads and complex mixtures of contaminants must be combatted effectively.
Nodora Advanced air filtration
Having delivered tailor-made odor treatment systems for demanding industry applications, we realized the need of a standard industrial grade modular solution applicable for both industrial and real estate applications.
Datasheets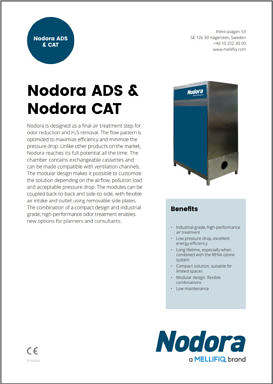 Nodora ADS & Nodora CAT
Nodora is designed as a final air treatment step for odor reduction and H₂S removal. The flow pattern is optimized to maximize efficiency and minimize the pressure drop. Unlike other products on the market, Nodora reaches its full potential all the time.
AirKarb 700-4000
Our industrial filters are used in a wide range of applications. We carefully select the best-suited highperformance carbon, or catalytic media, for each application. Eg. when H₂S is the cause of the problem, we select specially prepared impregnated activated carbon, while we use our tailor-made catalytic material (RubiCat™) for desulfurization in biogas applications.